I want to write an article and describe as briefly as possible my experience with Youtube and monetizing my videos through Freedom.tm and Adsense. There's a lot of good info below from a real experience.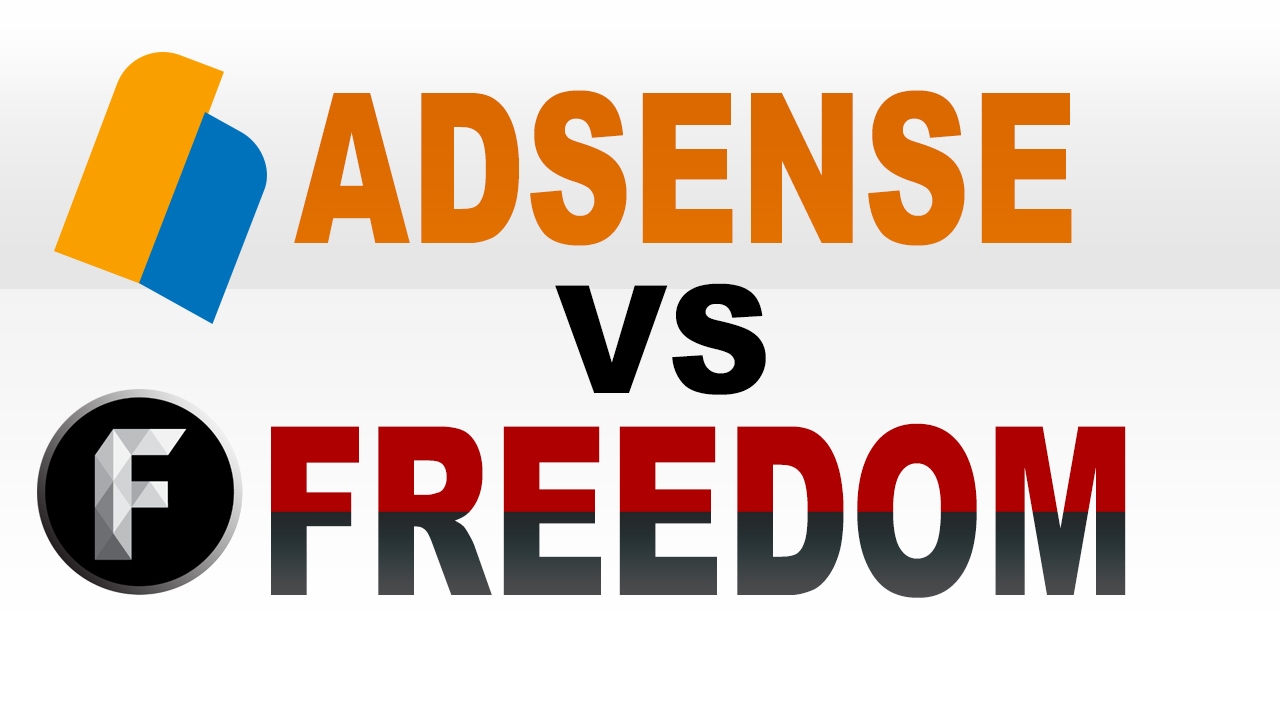 I have a channel on Youtube which I created a few years ago in order to promote some stuff I'm selling. A few months into it a friend brought to my attention that I can monetize my videos. He recommended Freedom.tm.
At first I was hesitant, as the Youtube channel was just a traffic source for me, and I hadn't considered making any additional money from it (other than the traffic I was sending to my offers with the links in the descriptions of my videos). I also didn't like the fact that I would be bothering people with ads, and also considered that the ads might reduce how many people watch my videos, and therefore reduce how many people check out the description and click on my links.
But, greed prevailed, and I went on to monetize my videos with Freedom, as my friend had suggested.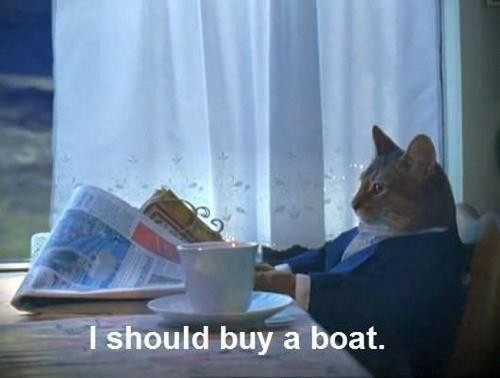 Long story short, I was accepted in the network and I started displaying ads on my videos. Freedom had this policy (they probably still have it) where you don't get paid the first 2 months while monetized, and then on the 3rd month you receive the payment for all the money you made on the first month, and it continues from there. I don't know why they do this, they must have a good reason.
On the third month, at the end of the month I received a little baby payment from Freedom in Paypal. It was like $0.50 cents or something. It was sweet because that's what I would call passive income. Next month I received another baby payment, and that continued for a few months. I was feeling better, I just made some money :p
What came next is Freedom demonetized me at some point, from what their support told me it was due to inactivity. I hadn't posted a new video on the channel for over 3 months or so. Although, I believe that was also around the point when many huge advertisers pulled from Youtube, and Youtube lost a ton of money and then tightened the rules on all video producers. Here's all about that – Starbucks, PepsiCo and More Brands Pull YouTube Ads in Growing Boycott
Freedom did tell me to publish one new video, then contact them and they would monetize me again. However, due to serious laziness and procrastination and preoccupation with other things, I left the channel as is and didn't post a new video for like 6 months.
So my little baby Youtube payments stopped coming in at the end of every month. That was fine, as Youtube is not my main income stream, not even my side income stream, it's a little baby drip. But, alas, it was missed, because it was the most passive shit ever, dude 🙂
Fast forward 6 months, and I post a new video on my channel, and contact Freedom to monetize me again. After a little back and forth, they told me that now, in order to get monetized, first you have to apply for monetization through Youtube, for Adsense, get approved, and only then can you get monetized through Freedom (and I assume that applies for all networks). You also have to have over 10,000 Total views on your channel, which I did, I had over 20,000 views at this point.
Applying for Monetization – Youtube/Adsense
I wasn't sure what to think of it, and if I should do it, but I did it anyway. I applied for monetization and Youtube/Adsense approved me.
Emails: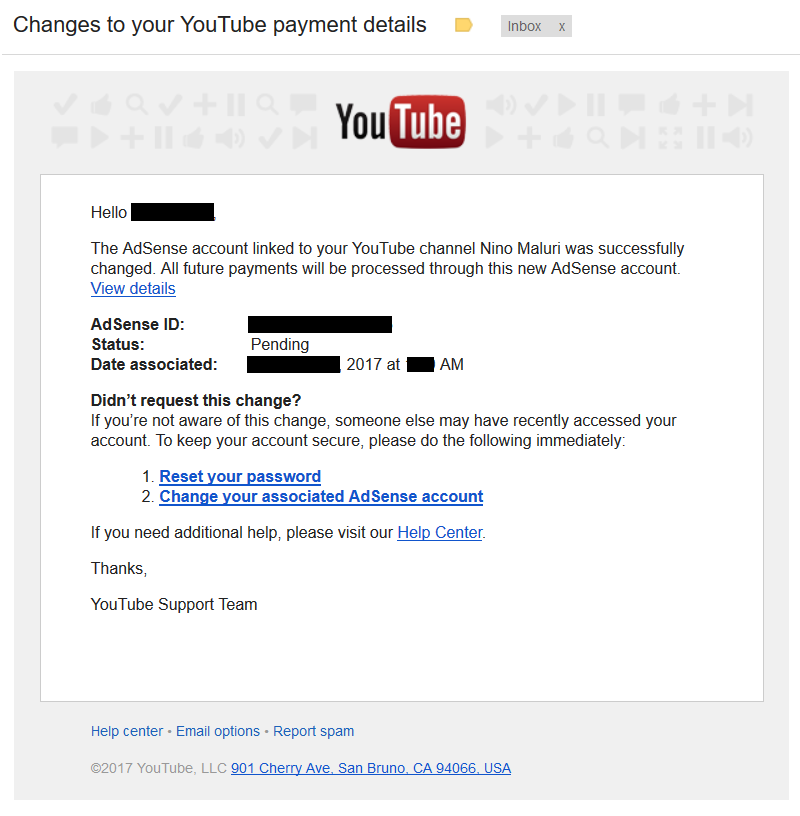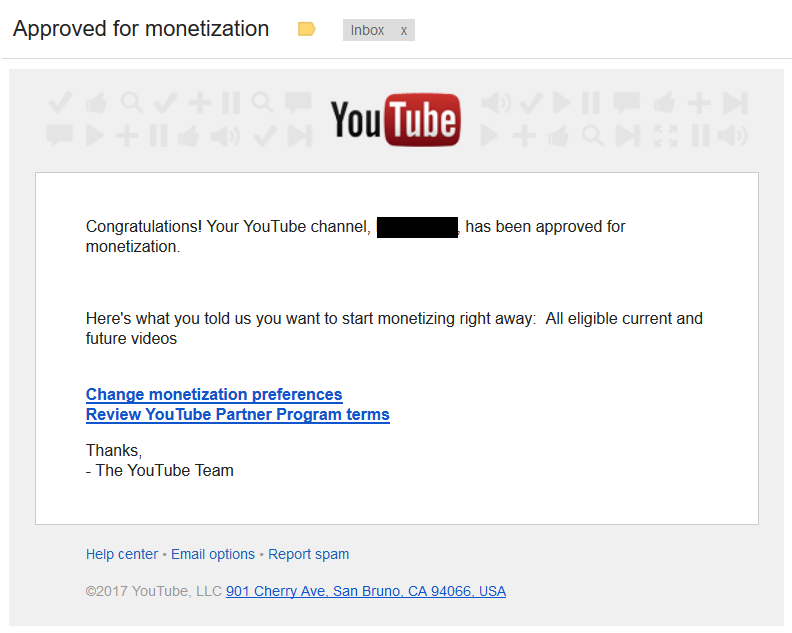 Then I went back to Freedom and asked to be monetized. After a little back and forth they told me that they can't monetize me at this point. I asked when do they think they will be able to monetize me, or give me a definitive answer of No at least. They said they can't tell. Okay, fair enough.
Whatever they have going on, I was first monetized with them, and first received money for Youtube ads from them. They were also pretty sweet as there was no long-term commitment on my part. The contract I believe with Freedom.tm is like 1 month. So if you monetize your channel with them, and at a later point want to change who you're monetized with, you only have to wait 1 month to do it. Most networks make you commit to longer term contracts. Another sweet thing about them is that at the end of every month I would receive the money I made in my Paypal. No matter how small the amount, a few dozen cents, they would send me the money at the end of every month via Paypal like clockwork.
Then I figured, I'll just monetize my videos with Adsense. I never had an Adsense account before, now I sort of got it because I was forced to, but since Freedom didn't work out, I'll just monetize with Adsense. My channel is legit, but some of the content on it may be interpreted as gray. So I was a little hesitant to go with Adsense, as people all over the net say that using a network such as Freedom you also get some protection from your videos getting banned, and they aren't as strict about the content you post. This could be bullshit, or it may not be, I have no idea. But it's a known thing around the net.
My Youtube Channel – https://www.youtube.com/user/NinoMaluri/ (Subscribe please)
So I did monetize my videos with Adsense, and I started earning a few cents.
And within a few days I received this email: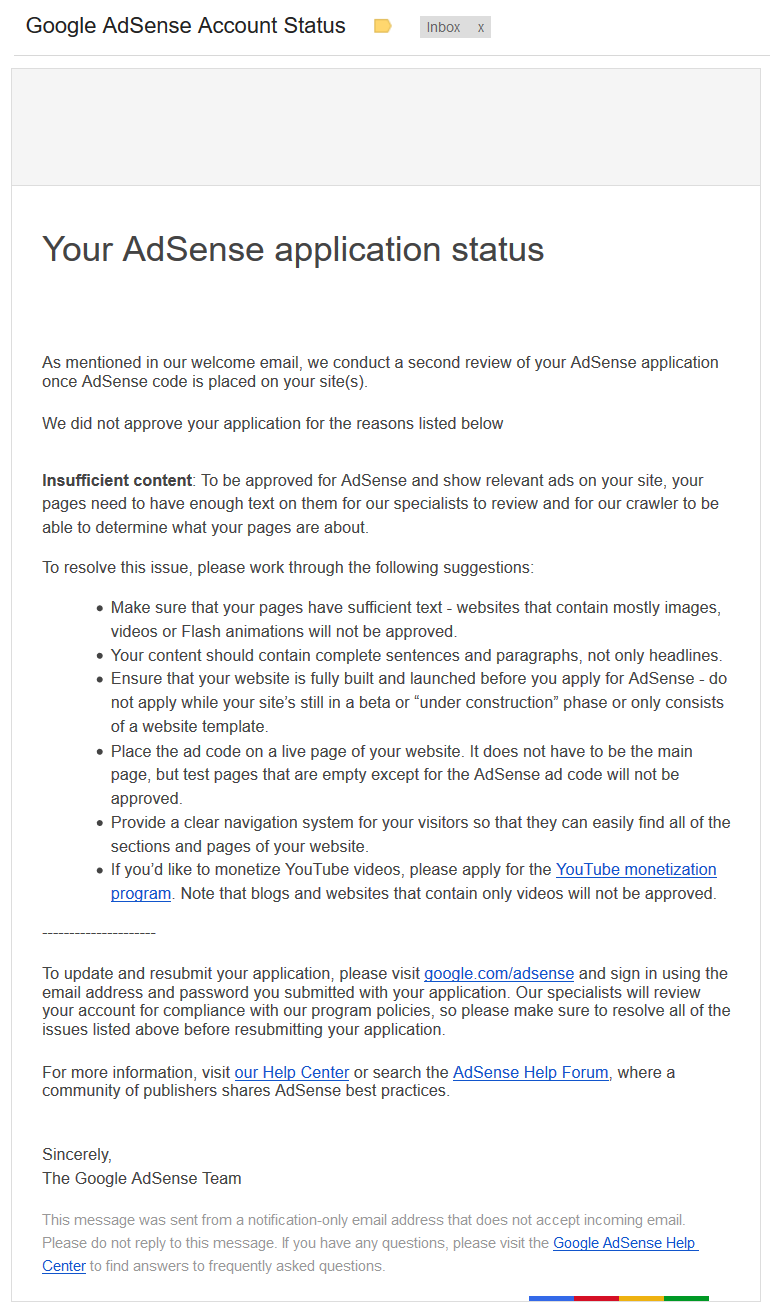 So I was weirded out, right? What content? I'm monetizing a Youtube channel, not a blog. But then I remembered that I had once upon a time applied for Adsense with a little free blogspot blogger site – Seriouslyfunnyhumor.blogspot.com – and they didn't approve my application due to insufficient content. That made sense, as that blog is mostly just funny pictures. Like funny memes and stuff. Check it out if you want. Hilarious.
And I still keep that blog alive. In fact, after I got approved for Adsense I went into my blogger settings on that blog and tried to turn on adsense ads on the blog. I assume what happened was that another application was fired up, and then that application got rejected, and that brought down my entire Adsense account, effectively demonetizing my Youtube videos.
Email:
So I had made a few cents in my Youtube Adsense earnings, but that was now dead. We were losing the battle.
But after visiting the Adsense website and logging in, I was given the option to request approval again. So I did it. And a day or two later they approved me again. I received no email about it, but I was allowed to monetize my Youtube vids again. That lasted for a few days, I made a few more cents, and then I received the same 2 emails as I did before: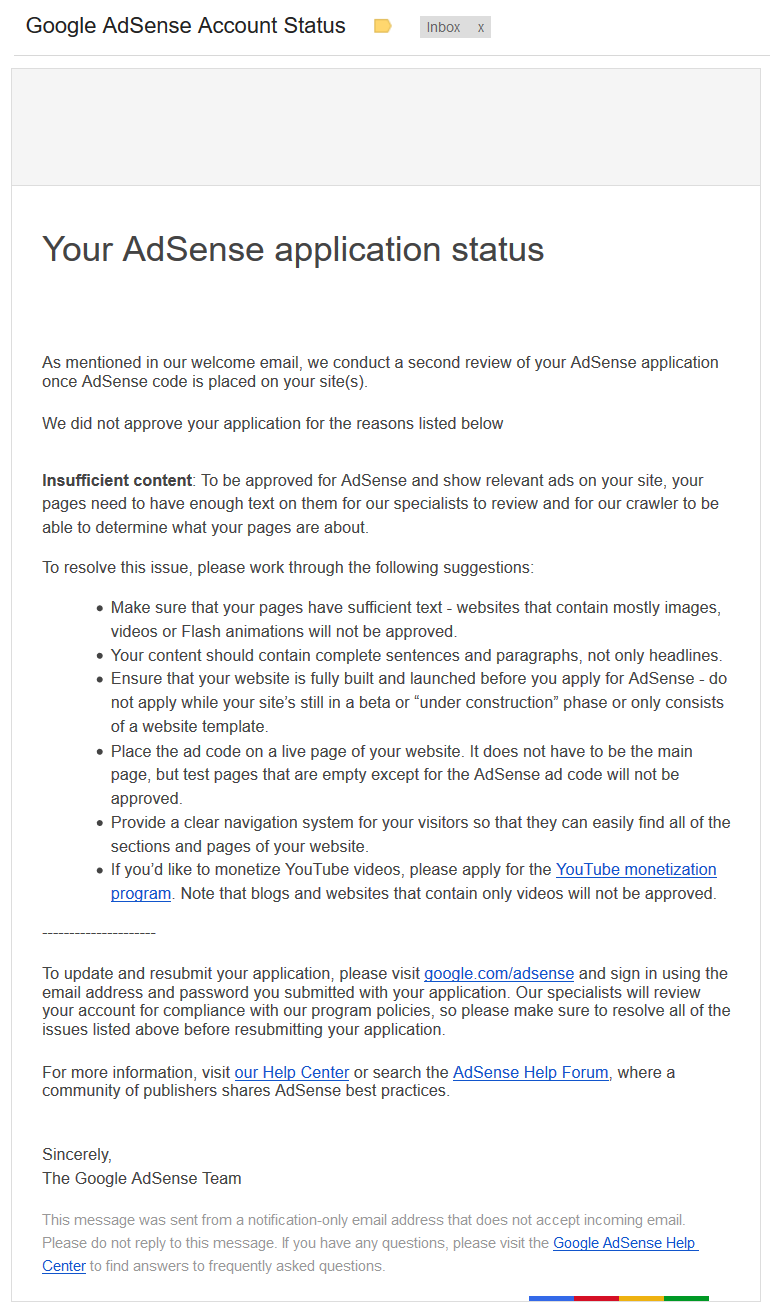 At this point I was desperate, and kinda pissed too, as I was coming to the conclusion that I had wasted a whole lot of time on this, and in the end I wasn't even going to manage to monetize my videos. I even looked around for alternative monetization networks, and nothing tangible came up. I'm leaving money on the table here. My channel gets about 1k monthly views. I can buy myself a cup of coffee or something, and it's passive income. So that was a bit frustrating.
But then I went to Adsense again, and I could apply for monetization again– or maybe I did it through the Youtube interface. I really can't remember at this point, I wasn't even thinking anymore, just checking robotically and making moves (is robotically a word?). So I applied for Adsense again, and I got approved again. Then I monetized my videos again, and prepared myself to receive those 2 emails again to inform me that I have been demonetized. Well, that hasn't happened yet, and it's been about 2 weeks since I finally monetized my videos and it stuck.
Freedom versus Adsense
So for now, this is where I stand. The videos on my Youtube channel are monetized with Adsense, and my earnings are increasing. Frankly, even though my channel is a bit bigger than ti used to be, I believe that I'm earning more with Adsense than I ever did with Freedom. My channel is sort of niche and I don't get a lot of views, and I also don't really promote my videos either, but all in all I believe Adsense is paying better, which is awesome. But…
The fact is that I'll only know if Adsense worked out for me is when I generate over $100 and try to get my money. If I get there, and I receive the money, then I'll claim I've made money with adsense and that it all worked out. Until then it's all just numbers on a screen 😉
Note: You may think I'm recommending you go out and make videos for Youtube in order to make money. That's a good plan, it will probably work. But if you're trying to build a solid business, don't do it. Youtube controls what happens on their platform, not you. They can shut you down before you can have your cereal in the morning. If you want to build something, go get your own website, and do something serious.