Twickerz is one of the most complete GPT/PTC sites. They offer cheap advertising for those that want to advertise with them, and for those that want to make money they offer many ways to earn. They have been around since 2011 and have regularly been paying their members with no issues or delays.
Registration on Twickers
Registration is free and they accept members from all over the world, you do not need to spend any money in order to get paid. You just need to chose your password and provide an email address, and you're on your way to start making money.
Ways of earning money
You can earn money on Twickerz in several ways:   Clicking on Ads (Over 15 ads per day)
Completing Sign Up offers
TwickGrid (You win quite often)
Getting Referrals (No Limit for Direct Referrals, you can also Rent Referrals)
Payment Information
The minimum cashout amount is $1.50, and the payments are instantly processed. You can request to be paid by any of the following payment processors (eBanks):
As far as eBanks go, i advise you to go and create a Paypal and a Payza account if you are making – or planning to make – money online. I haven't used the other two so i can't say if they're any good.
And the Payment Proof, as i promised (Click to Enlarge):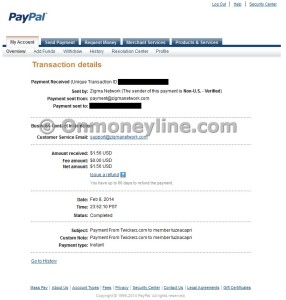 This is my personal payment proof, but many more can be found online.
Conclusion
Twickerz is a great Get Paid To/Paid To Click site. They also have a forum which is always a great indication that a site is legit and has nothing to hide. If you are thinking of investing money with the site i advise you to first test it, see how you like it, get comfortable with it, and then invest if you want.
Click the Banner to Register: