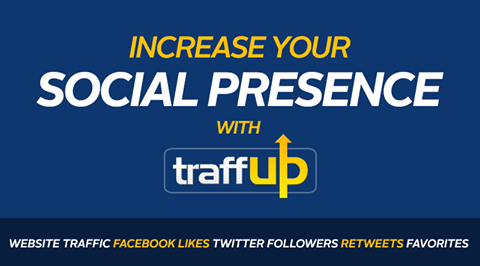 Hello everyone! Today I will show you another site where you can get Hits/Traffic for your Websites and Posts, Followers, Retweets and Favorites for Twitter, and Facebook Likes, for Free! This is a site like AddMeFast, Likenation, etc. The site in question is TraffUp.net!
How do I register?
Go to this link to register and you will immediately receive 100 points to use as soon as you register and verify your email.
How does it work?
Traffup.net is an easy way to get more visitors to your site, get Twitter followers, retweets and favorites, and Facebook likes. It's basically a (social) traffic exchange site.
The site functions on points. What happens is that you visit other peoples' sites, you follow other peoples' Twitter accounts, you retweet and favorite other peoples' Tweets, and you Like other peoples' Facebook pages. For doing those things you get certain points for each action, and then you can turn those points into visits/followers/retweets/likes for your own Websites, TW Accounts and Tweets, and FB Page Likes.
For example, collecting points from Website Hits. Just click on "Websites" and then click a link of your choice (those with most points of course!). After you click the link you'll see a page with a counter between 10-30 seconds that you'll have to view in order to receive points . In addition to the website hits you can take advantage of the Twitter and Facebook categories too in a similar fashion.
What are the steps to get stuff?
To advertise your website! Just click "Website" in the top bar and then click on "Add New Website". Now add your link and wait 10 seconds for the site to confirm your link is okay. If it's okay, now you will have to add a Title, choose Category and add a Description. You will also have to choose how many points you want to give for each hit (the more points you offer per hit the more views you will receive, and faster). You can do the same thing with Twitter and Facebook. Remember, you can assign 20 to 50 points per hit/follow/retweet/favorite/like.
What other functions does TraffUp offer?
Traffup also has a 3-tier affiliate system in place where you can earn points from people you refer to the site. This picture will explain their referral system: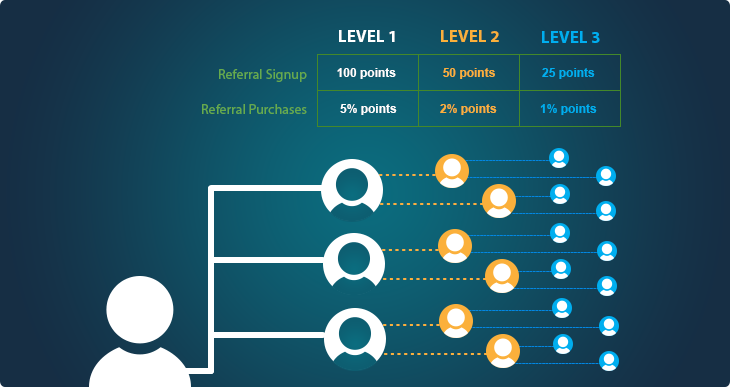 Here's how the affiliate system works:
100 points when a person referred by you joins Traffup.
5% points when a person referred by you buys points from Traffup.


For e.g. if someone referred by you purchases 5,00,000 points, you get 5% i.e. a whopping 25,000 points from Traffup.


And this bonus applies to every purchase by that referral.
3-Level referral bonus
Your earnings don't stop at level 1 referral. You also earn points when referrals of your referrals join Traffup or buy points from us. It works for 3 levels.
The above is quoted from Traffup.net directly.
How can I earn points without doing anything?
Using an automation bot, of course! Look, you can buy points if you want. Buying points however is expensive, and I wouldn't advise it. If you have a Twitter account that you can use to follow other people and retweet and favorite other peoples' tweets, then you can use an automation bot to collect points easily and on autopilot.
Conclusion
In conclusion, Traffup is a site that doesn't offer a lot of categories. However, it offers some nice specific options, for example being able to choose to have only people who's Twitter account has over 500 Followers to Retweet your stuff. No other site offers that. Also, Traffup has a lot of traffic, so you will be able to get hundreds and thousands of Website Views, Twitter and Facebook followers and likes quickly. Traffic is the key to these sub4sub type sites, and Traffup has it.
Register by clicking the banner:


Feel free to leave us a comment below, and share this post around using the social sharing buttons so that we can all benefit from the increased traffic on Traffup.