Scarlet-Clicks has been active since 2009, and they have regularly been paying their members. Technically this is an Aurora site (Not a PTC site) because they use the Aurora script, anyway, that's not important. The site is completely Legit as you will see below in the payment proof.
Basic information:
Per Click: $0.005
Number of Advertisement: 12+ per day
Referral Earnings: 40%
Minimum Cashout: $0.30 the first one for Paypal. For payza it's $ 1.00
Payment Delay: 24-72 hrs
Payment methods: PayPal, Payza
Referrals: 1 level, No limits on direct referrals
Accepted Countries: All except China
Inactive Accounts: They do not delete accounts, you can come back any time you want
Ways of earning:
1) You can earn by clicking on PTC (Paid to Click) ads, naturally.
2) You can also earn by completing offers.
3) Playing the ScarletGrid.
4) Getting as many referrals as you can.
5) Increasing your earnings by upgrading your account.
6) There is Traffic Exchange. Now, this part can't make you money directly, but say you have a website or something to promote, you can do it here, for free.
Legitimacy Proof and Payment Proof:
Well, Scarlet-Clicks is completely Legit, but don't take my word for it. First of all they've been around since 2009 with a perfect record, nobody complains about this site. Second of all they have a Forum, and that's a great indication. They have active and helpful support.
And lastly, the Holy Grail of legitimacy, the Payment Proof (Click the image to see more):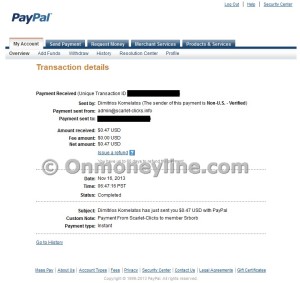 That's all folks. Stay tuned as i bring you even more Legit websites where you can earn money online.
Leave a comment, share the article if you can. Support the site so that i can keep bringing you honest reviews. 🙂