What is MegaTypers?
Megatypers is a site that pays you to solve images (Captchas), or in other words it's Data Entry work. It's definitely one of the easiest ways to make money online. And apart from making money, I find that there are other benefits to working here.
Note: This is not a place where you get rich or make a lot of money, but it's definitely a nice extra site to have in the basket… You know, don't put all your eggs in one basket!
How To Earn?
You can earn by solving images and by referring people to the site.
For solving images they have two ways of doing it, one is the "Start Working" button that you will see once you register. Working by clicking this button will make the images come slowly, use this is if you don't type very fast and if you're a beginner. And the other way to work is the "High Speed Work(Beta)" where the images come faster, so you get more images to solve and you can make more money faster.
When I first began I wasn't the fastest typer, so I used to work on the slow mode, but later on as I typed and got better I started only working on the high speed work section.
Let me just place this video review I did for Megatypers right here:
Getting Referrals
Getting referrals is quite easy, just go and find a few videos on Youtube about Megatypers, and post your invitation codes in the comment sections. Also comment on a few blogs from time to time, and you're definitely gonna get some referrals. And those referrals can make you some passive income as time goes by.
What other benefits are there?
Megatypers also gives you the percentage of how many images you solved correctly. When I started my percentage was around 82%, and as I got better at it my percentage is now around 95%. There are 3 things that this site will help you with apart from making some easy cash, you will start typing much faster, you will start thinking faster, and you will never go to register for some website and have to solve a captcha and make a mistake, seriously…
What payment processors are supported?
They can pay you with Paypal, Payza, and Perfect Money. Whatever you chose you're fine. Personally i get paid by Paypal and i never had any issues or delays. The payments go out Once per Week, every Monday.
You get paid every Monday as long as you reach $3.00 in your account by the previous day.
Note: When you are registering your account on Megatypers, make Sure that you input the correct email in the payment processor box.
Final Thoughts and MegaTypers Payment Proof!
This site won't make you rich, but you can learn to type and think faster, you can get real good at solving captchas, and sure enough you can make some money here as this site is definitely Legit and Paying. See the payment proof below.
Note: If you click the image below you can see more payment proofs.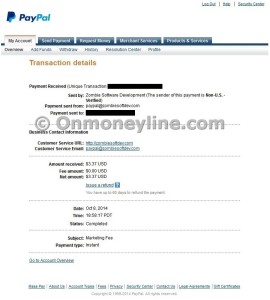 All in all, I don't recommend you sit and spend 8 hours a day here, it's not worth it. But login every once in a while, make some money, and consider this site as another egg in the basket. The more sites you have to earn money online, the better off you are and the safer you are.
I need an Invitation Code to Register?
Registration on MegaTypers requires an Invitation code, and you can use any one of these:
5RC4
5RF4
60PA
68K2
68K3
All you have to do is input one of the codes when you are registering in the Invitation Code box.
Happy Earnings.