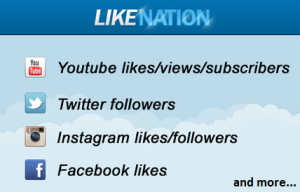 In this post I will review a social traffic exchange site called Likenation. It's a site that covers a dozen categories across a range of social media sites. It's a site that works well, that has active support, and most importantly has a ton of traffic. Traffic is the most important thing on these Sub4Sub sites!
What happens is that on Likenation you can get Facebook Likes and Shares, Twitter Followers and Tweets, Instagram Followers and Likes, Youtube Subscribers, Likes and Views, SoundCloud Followers and more…
How does it work?
The way it works is the same like other social exchange sites, like AddMeFast, YouLikeHits and others. It's free to register and start using the site. The site runs on Points, which you can use to get Followers/Shares/Likes/Subscribers. To get those points, you can either buy them on Likenation (or some other place cheaper, for example here), or you can Collect them on Likenation by liking other people's stuff, following, subscribing, sharing, etc. The second way of getting points is free, although time-consuming and quite tedious.
Of course, you can always automate collecting of points by using iMacros. This is not allowed on Likenation and other social exchange sites, but you can do it.
Check this out: Get Likenation iMacro Scripts
And lastly, you can also get 300 points every time somebody registers on Likenation using your referral link and does 50 actions. And, every 24 hours you are allowed to claim a 200 points bonus after you do 50 actions on the site. What I like to do is login every few days and do 50-60 actions and then claim the 200 Points Daily Bonus.
Conclusion
Likenation is a good site, covers a lot of categories and has a lot of traffic. Register on Likenation here, check out the site and start growing your social media accounts and expanding your exposure on social media by getting shares and tweets.
If you have any questions or would like to tell us something, shoot us a comment below.