UPDATE: Incentria has closed its doors at some point in 2014. They went our correct and paid out their members and everything. It was a nice little site, but now it's gone.
You can read details and information about the site shutting down on this eMoneyspace forum thread.
---
What is Incentria?
Incentria has been around since 2008 and has been paying its members regularly and with no problems. It belongs to the same company (same owner) and is a sister site with Clicksia, which is also a great and legit GPT/PTC site.
They have a Forum, which is always an indication of a Legit website. They have good affordable advertising packages for you to advertise your sites/offers/referral links. They accept members internationally, so there are no restrictions on who can register. You can earn on the site as a free member, or you can upgrade to an Elite member for a cheap fee and earn more, if you want to. They also have helpful support which is very active, so if you have any inquiries you can be sure to get a response to your support ticket within 24 hours.
How can I earn?
There are a few ways with which you can make money on Incentria.
Paid to Click – Getting paid for clicking on adverts. You will get around 10-15 ads to click on daily and the earnings you can make from them vary.
Sign Up Offers – These are various offers where you can earn by signing up to some site or completing tasks. Check out the offers and keep in mind to Not register on any site where you already have an account on. Also remember when completing these offers to register on sites using the link given on the offer. When you register for a site, you will have to send as proof the Email that you get after registering and to write the Username which you have used.
Traffic Exchange – With this option you can earn by advertising your referral links from other sites, or your own website or any kind of offer. However, this option doesn't allow you to earn directly. How this work is pretty simple, you view other people's websites and earn credits for doing that. Afterwards you can use those credits to promote your own sites/links.
Promote Incentria – This is an incentive to promote Incentria. Basically, you get paid $0.0001 for every unique view to your referral link within 24 hours. So if the same person views clicks your link over and over again it will just count as 1 View, for those 24 hours. This is a good option if you have your own site or have a way to get a lot of people to visit Incentria using your referral link.
Getting Referrals – There is 1-Level of referrals and there is no limit on the direct referrals that you can have. You get paid 10% of whatever your referrals make. As with any PTC site, referrals are the best way of earning more money. That is, active referrals.
Cashout/Payment Information
You can get paid either by Paypal or Payza. These are the supported payment processors (eBanks).
The minimum cashout amount is just $1 Dollar and the waiting period is up to 7 days.
And the Payment Proof that I promised (Click the Image to Enlarge it):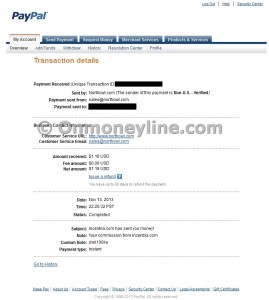 The above payment proof is mine. Oh, and there are absolutely no fees when withdrawing your money.
To register on Incentria for free click the banner below: