What is Clixsense?
ClixSense is basically a PTC (Paid to Click) site that allows you to earn by viewing advertisements, completing offers and surveys, etc. Actually, Clixsense is one of the oldest and most legit PTC sites on the internet today. If you've heard of Neobux, these two are in the Top 3 PTC sites online today.
Advertisers pay ClixSense to include their ads on their site, and then ClixSense pays you to look at these ads. This site offers many other ways to earn too, which distinguishes it from many similar sites, but more on that in a minute.
The way this business is run ensures that all sides get what they want (advertisers get visibility for whatever they are promoting, the site gets paid by the advertiser, and you get paid by the site).
ClixSense is a site that has been on the scene for over seven years, it has a forum, has customer support, is a professional website, and most importantly it has been paying continuously since the beginning of operations for which there is ample evidence. I will also post my personal Payment Proof below.
Perhaps the most important legitimacy proof that can be said for this site is that there are no complaints to be found about it online.
How to Make Money?
Ways of earning with ClixSense are really diverse, and they are as follows:

1) View Ads – The first way is that after registering every day you get a certain number of ads that you can click . The page on which your ad must be watched from 3 seconds up to 30 seconds max. The time depends on how much you are paid to watch the ad.
2) Another major way of earning with ClixSense are the many Surveys/Offers/Tasks that they offer. There are many various tasks that you can do (e.g polls, your opinion about something, research, etc.) and get money for it, and the money then comes immediately to your account. These offers can elevate your earnings by Much, so instead of just making cents with clicking on ads, you can also make some more serious money by completing tasks and offers.
3) The ClixGrid – In my opinion, a gamble, and is not guaranteed to earn you anything. Personally, I almost never click on the ClixGrid anymore. However, you can earn up to $10 a day, but it's really like a lottery. It's free, you just gamble your time basically, and the odds are stacked against you.
4) The fourth way is by getting Referrals, so that when somebody registers as your referral you get a certain percentage of what they earn (Their earnings won't be affected, of course. From the site you can call via mail to seven friends a day by clicking on the ''Invite Friends" and you can advertise your link in whatever way you want. As more users sign up through your link, the more your passive income.
5) Upgrading your account to Premium – That brings you more revenue from the Ads and Tasks you view and complete yourself, and it also brings more revenue from your referrals who sign up through your link. I know, it sounds familiar, but the thing is that unlike premium subscriptions on other sites, the page at ClixSense is only $17 a year, so that can really pay off. However, nobody's forcing you. You can still use the site completely free and after some time decide for yourself if it's worth it or not to give $17 membership fee.
As you can see the ways of earning are indeed numerous, it is not difficult to work with a great community, with many members on the forum where you can ask questions or to boast of your success, and this little site is at your disposal completely for free.
Clixsense Payment Proof and Information
I will just post screenshots directly from Clixsense where you will see all the information you need to know about withdrawing your earnings:

So if you have a Premium membership, you can get your money out as soon as you hit the $6 dollar mark. For Standard members, the free members, the minimum cashout amount is $8; for PayPal and Paytoo.

Above you can see the Cashout Options and Conditions at ClixSense. Everything is nicely laid out – the payment processors they use and can pay you through, the minimum cashout rules, the fees, and when they pay, on which days.
Also the Payment Proof that I promised earlier: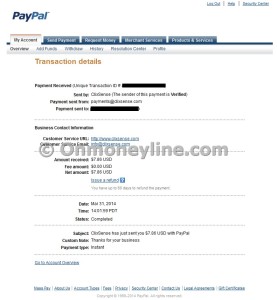 It is important to note that this is not some sort of a scam, because as we all know, scams simply fail after they draw all the money from their members, but this site has a professional approach and that is the reason why they are a successful business that pays regularly. And has been paying regularly for over 7 years now.
Well that's it. This article was not full of phrases like easy money, quick profit, get rich quick blah blah blah and sparkling slogans. That's because I'm honest, you won't get rich with this unless you can get a lot of referrals and get real good and quick at doing the tasks. However, this is one of the Highest Paying PTC/GPT sites online, completely legit, and completely safe for investing and upgrading your account to premium. The potential is there to make good money with ClixSense, definitely.
I hope this article helps you out and that you will check it out. Why would you get stuck spending time on scam new PTC sites when you can start earning on something that's verified right now. You have nothing to lose except a little time, and you won't lose it because you'll surely make some money.
Register below: