UPDATE: Clicksia has closed its doors at some point in 2014. They went our correct and paid out their members and everything. It was a nice little site, but now it's gone.
You can read details and information about the site shutting down on this eMoneyspace forum thread.
---
What is Clicksia?
Clicksia is a website where you can earn money online easily.
This site was launched in 2007 and has had a perfect record until now. It has been paying it's members without delay at all times and there are no complains about this site online.
How can i earn?
You can earn for Clicking Ads, or PTC (Paid to Click). By Completing Offers, or GPT (Get Paid To). And by Referring other members to the site.
You can have unlimited direct referrals here which enables you to earn a lot, as long as you can get a lot of referrals. And if you upgrade your account then you can earn even more (Upgrading costs $5.95 per month only). You can also buy referrals if you want to.
And one more thing you can earn for is for promoting the site, so any clicks your referral links get still make you a tiny amount of money, even if people don't actually register.
Who can register?
On Clicksia they accept members internationally, which is great.
Cashout Information
They support Paypal and Payza as methods of getting paid. The minimum cashout amount is only $1, which is awesome because you can cashout low. I personally hate sites that have high cashout limits, especially PTC/GPT sites where you can't really earn that fast and in large amounts.
Here is a Payment Proof to put your mind at ease about the legitimacy of this site.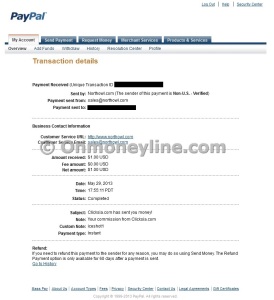 Final Thoughts
Clicksia also has a Traffic Exchange program where you can promote your own sites or landing pages completely free. You know the drill, you surf pages, you gain credits for it, and then you put your page/site in there and other people see your page while they surf.
The site has active support and this is great for any website. So if you have any problems or issues after you register, you can always email them and solve any problems or questions you have.
And because i'm always honest, this site is not the fastest earner, and you can't contact your referrals, so there you go, some negative things. Appreciate my Honesty!!
All in all i love Clicksia. I know i will get paid when i reach the $1 dollar minimum cashout amount because, well, you can see the Payment Proof above, and there are nothing but good reviews about Clicksia that can be found online all over the place. Also their site has a very simple and easy to use interface, and that's awesome comparing to many other sites where it takes you an hour to do the simplest of things.