Update on 30th of November 2017
It seems BuxP is closing down. They paid out only members that had over $6.99 in their account. Which was too bad for me, considering I had about $6 dollars. So I just spent the money on ads, sent some traffic to my site. Anyway, there goes Buxp.org.
You can find more information about what happened here: http://ptccentral.com/buxp-review/
And here: https://www.emoneyspace.com/forum/index.php?topic=441615.0
Here's what you can currently see if you search for Buxp on Google:
So we can kiss Buxp goodbye.
Below is my original review of Buxp:
---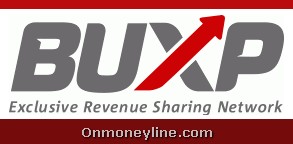 BuxP has been online since 2008 and is a legit GPT (Get Paid To) website that has been regularly paying its members for the past 8+ years. In other words, people can make money on BuxP by doing various tasks. Also, advertisers and other people can advertise their websites and get various things on BuxP. Everything will be explained below. Keep on reading to find out more information and to see payment proofs of cashouts I have personally received…
Registering on BuxP
They accept members from all over the world. All you have to do is go to BuxP and register for an account, and you can start earning money or advertising there. Registration is absolutely free, and you will not be required to deposit any money whatsoever. You can start earning the minute you register!
Earning Options
Let me say that BuxP has been online since 2008. It pays on time and is therefore regarded as very trustworthy. It's one of the top GPT/PTC sites in the industry.
There are about over 50 ads a day you can click on, you can do micro jobs, watch Youtube and Vimeo videos, like Facebook pages and do many other tasks to earn money. Let me just add here that in their Paid To Click section there are also ads for adults. However, these can be blocked in your account settings if you so choose.
Earning Details
Here's the picture: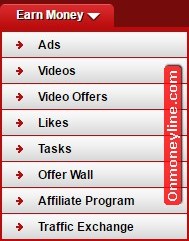 Let me explain:
Ads – In this section you basically do Paid To Click. You click on an Ad, type out a 2-digit number, and wait for 10 seconds for the timer to expire. After that you close the ad, and get credited for your click. It's as simple as that.
Videos – Here you watch Youtube and Vimeo Videos. You click on a video, let it run for a number of seconds, and when the timer completes you click to confirm and get credited.
Video Offers – This section is a bit more profitable than the previous two. You click on a Youtube video, Comment on it and Like it, and you click confirm. After a few hours you get the money for your actions added to your account balance.
Facebook Likes – This section is also profitable, but it was recently added to BuxP, so there are not many pages to like. What you do is click to open a Facebook page, you like it, and then you close the window and confirm the like. That's it.
Tasks – This section is varied. There are many things to do to earn. Offers come and go, but generally the tasks include Following someone on Twitter, Liking or Disliking a Youtube Video, Liking or Commenting on a Vimeo Video, Subscribing to a Youtube channel, sign up offers (to register to some site for example), chargeback offers (where you shop and get some money back from your shopping), and more!
Offer Wall – The Offerwall offers a number of other networks to do offers from. Currently they are AdWorkMedia, SuperRewards, Monetizedigital, Wannads and AdscentMedia. The offers they offer include CPA (Cost Per Action), Surveys, Watching Videos, and more!
Affiliate Program – I will quote directly from BuxP the details for the affiliate program: "Earn up to 7.5% (premium members) or 2.5% (standard members) Commission for each sale made through your referral link. E.g. if an advertiser purchases 2,500 Website Visits on BUXP via your referral link you will earn up to 7.5% (in this case $1.35) of what the advertiser pays, instantly available on your BUXP Balance! The Affiliate Program is active for traffic, youtube, vimeo, facebook, twitter and banner purchases. Earnings made from our Affiliate Program will be reflected in your History. We are rewarding the top commissioners monthly with free premium and other prizes."
Traffic Exchange – Here you can view ads, for which you receive credits. Then you can use those credits to have other people view your own website or salespage or whatever page you want.

BuxP Payment Proof (Paypal) and Information
Payments are possible once you reach $6.99 in your account via PayPal and Payza. The first payment is made within 14 days, after which all the next payments will be paid out immediately. You can find many payment proofs of BuxP paying their members all over the internet.
My BuxP Payment Proofs (Click to Enlarge):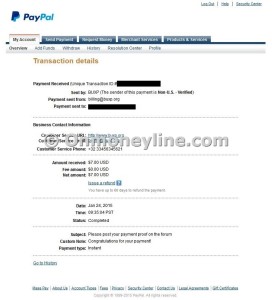 Remember, the sites that don't pay simply never do. See my payment proofs and that will prove to you beyond a shadow of a doubt that BuxP is a legitimate website that always pays their members.
Conclusion
BuxP is a fantastic site. It is a legit site that has regularly been paying their members for over 8 years now. They also have a Forum, which is also always an indicator of a site that has nothing to hide. Members can ask questions on the forum, share payment proofs, etc. Also they have good and quick support where you can contact them if you have any problems or questions.
Register by clicking on the banner below: