AyuWage is one of the oldest and well-established sites to earn money on, and what an earner it is.
I won't bullshit you, these types of PTC/GPT sites can be great earners, if you get referrals, but every once in a while you come across a site that can earn you decent money without having tons of referrals, and this is one of them…
How to Earn Money?
AyuWage offers plenty of ways to earn money. Here is the picture:

After you login and click on "Start Earning" you will see the tabs like you can see in  the picture above. Let me break it down for you:
View – Here you can find Ads to click on that let you earn $0.001 – $0.003
Regular – Here you can find Ads that pay $0.005 – $0.015
Email – This actually goes through your email address, but it has to do with reading emails.
Search – This is a task to search for a site for example and view it. It pays $0.025 cents which is great.
Special – Various tasks to register on a site, vote for something, download something, many opportunities.
Task – It is what it says, you can find tasks like categorize something etc.
Survey – You can find various surveys to complete which pay nicely.
Rewards – These are SuperRewards offers you can complete and earn.
Live – Here you can let your computer surf websites and earn some money.
Simply follow the instructions found on the offered page and you won't have any problems. However, note to actually Follow the instructions, otherwise you will get warnings, and you can have up to 3 warnings before they ban you. But not to worry, the warnings are rare and even if you get one simply log of the site for 24 hours after which your warnings will be deleted. Personally I only got 1 warning once, and that was because my lap top had bugged out.
On AyuWage, the advertisements, tasks and offers appear throughout the day and so you can either install the toolbar or check back every once in a while, during commercials while watching TV, or when you have nothing better to do, etc. There are enough commercials to click on on this site daily so it can really pay off!
Referrals – There are no instructions to follow on this one, simply get your unique referral link, share it around and earn from people you refer to the site.
Payment Information and Payment Proof
The minimum payout amount is $5 dollars, and so combined with the fact that AyuWage is one of the Highest-Paying sites of its kind it can be relatively fast and easy to reach the minimum cashout amount ($5) and withdraw your cash.
Note: If you wait and cash out more than $10 dollars then you get a small bonus. That's because then they can avoid paying the withdrawal fees. But it's completely up to you. You can receive your payments through Paypal, or you can also use the credits you earn to rent referrals if you want.
The Payment Proof (Click to Enlarge and See More)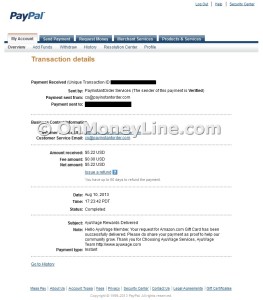 Like I said, the payment proof for which there are no fees because AyuWage takes care of them for you. So everything you earn you actually receive, unlike some other sites that are not so generous.