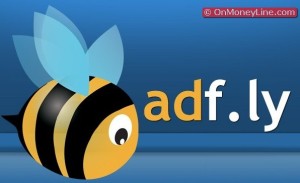 Earning Money with Adf.ly is the easiest thing to do. You won't make a ton of money, but if you find a way to get thousands of clicks then you can surely make some good money without having to put in a lot of work.
Basically, you put in the work in the beginning, set everything up, find a way to automate everything, and then the money starts coming in. And then the more you work on it, the more clicks you will get and the more money you will make.
How does it work?
First you will need an account with AdFly. Click This Link and register for a Free Account.
You find a link you want to share. It can be anything, a youtube video, a news article, any links you can imagine can be made into a paid link. After you decide on a link to share, copy the URL and then convert it/shorten it on the AdFly website.
Now go and share your link anywhere you want. Every time any person clicks on that link and watches the 5 second advertisement, you get some money credited to your account.
Note: Don't click on your own shortened link more than once, click once if you want only for testing purposes.
Where can I share the Links?
You can share the links anywhere you can imagine. On Forums that allow it, Twitter is used a lot, Facebook can be used also, Youtube too, if you have a blog or a website. Keep in mind NOT to spam anyone or any site. Just post links that point to interesting things (Never Porn), and watch the money rise.
Use the signature areas on forums, look around, I'm sure you'll find some that allow it. Then every comment you leave there will forever have your adfly link in the signature. Talk about passive income. :p
I will write a detailed tutorial at some point about automating twitter and adfly via twitterfeed and making money passively.
Payment Information
AdFly pays with Paypal, and the minimum redemption amount is $5 dollars, it's not a lot. And the website definitely pays. You can find plenty of payment proofs online.
Tip: Always convert your AdFly link with another URL shortener like Bitly or Ow.ly. This is because a lot of people know that Adfly links are for advertising and avoid clicking them. So convert them to something else and enjoy making that money.