AddMeFast is the number one social traffic exchange website on the internet today by far. Today I will review the site and explain to you how social exchange websites work, and how and why AddMeFast is the best!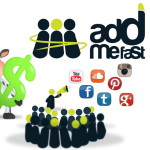 What are Social Traffic Exchange sites?
These are websites that people utilize to exchange social services with each other. Basically, these sites use points, or some of them use tokens. How it works is you go and follow someone on Twitter for example, and you get some points for that. Then you set your own Twitter account, or Facebook page, or Youtube channel and assign points to it. Then other people will go and follow/like/subscribe to your pages.
So you get points by liking/subscribing/following, and then you use those points to get other people to do those same things for you. Now, points can be acquired in two ways – you can buy them, or you can collect them doing the actions I mentioned above.
There are a few reasons for this. One and the most important is the it simply has the most traffic. You can get thousands of followers and subscribers and likes on this site in a day or two. There are thousands of clones and small sites out there where you wouldn't get 100 followers in 100 days. You know what I mean?
Another reason is because AddMeFast works well. In other words, there are no bugs on this site, like you doing an action and not collecting the points for it, or the website not loading for days, or being slow. AMF works perfectly, and that's also why so many people use it. Of course, sometimes you still won't get the points sometimes for actions you will do, but on AddMeFast you can be sure that you'll get the points most of the times, and it will all work smoothly.
Watch my video Review:
Which Social Sites/Categories does AMF Cover?
AddMeFast covers a very wide range of social networking, bookmarking and video sites. Anyone and everyone will find something to use. Here is a detailed list of everything they have:

Facebook Share
Facebook Followers

Facebook Post Like

FB Post Share

Tsu.co Followers

Instagram Followers

Instagram Likes

Twitter Followers

Twitter Tweets

Twitter Retweets
Twitter Favorites

YouTube Subscribe

YouTube Likes

YouTube Favorites

YouTube Views

Google Circles

Google Share

Ask.fm Likes

Vine Followers 

Vine Likes

Vine Revines

Vkontakte Pages

Vkontakte Groups

MySpace Friends

Pinterest Followers
Pinterest Repins

Pinterest Likes

Reverbnation Fans

SoundCloud Follow

SoundCloud Likes

SoundCloud Plays
StumbleUpon

Website Hits
Obviously, no matter who you are or what you're doing online, you will find something that you can use here. Everything works and all the categories are very active, so you know you will quickly start receiving large amounts of likes, followers, subscribers, etc…
What about those points? Can we get them Free?
The points can be bought, or can be gotten for free by using the website and following/liking etc other peoples' stuff. Now, buying points on AddMeFast isn't very expensive, but isn't very cheap either. Personally I don't like buying them. Doing tasks on the other hand to collect points is tedious, very time-consuming and boring work. But thankfully iMacros come to the rescue!
I won't be explaining iMacros in this here post, but I will throw you a bone and recommend a guy I discovered recently who has the best iMacro Scripts for AddMeFast. Here is the offer:
These scripts are used in Firefox with an add-on called iMacros. Both of these things are free. So it's basically a one-time investment of a few dollars after which you can collect points on autopilot and for free.
Conclusion
So there you go, an honest review of the best social traffic exchange site on the internet today. I know it's the best because I've used many of these sites, and most are just graveyards, dead sites with little to no traffic and full of bugs. AddMeFast is the top of the chain, number one!
Please share this post if you can. After all, sharing is caring! And feel free to get in touch in the comments below if you have anything to tell us or ask us. Click on the banner below to register on AddMeFast and start growing your social accounts and profiles, getting shares, retweets, favorites, and becoming a wizard of social media sites!
Click the banner to check out the site and register: